Back in February, a team of volunteers partnered with Word of Life missionaries in Guatemala as part of a short-term healthcare mission trip. The group treated 1,718 people and provided almost 4,500 prescriptions. Through their ministry, 279 people made professions of faith!
Olivia Jones, an ICU nurse from Norfolk, Virginia, and graduate of the New York Bible Institute class of 2012, was a member of this team.
Olivia is no stranger to international cultures. As a Navy kid, she grew up living all over the world. In fact, the opportunity to interact with students from other cultures while studying the Bible was a key part of what drew Olivia to the Bible Institute in the first place.
"What piqued my interest was my experience as a camper on The Island, where I met some wonderful people who encouraged me to study God's Word. One of those instrumental people was Rachel Hoagland, my camp counselor. I remember sitting by the lake near Cardiac Hill as she talked about being a conversation partner with international students during her time as a Bible Institute student. The synergy of these different experiences compelled me to apply, so in 2011, I attended the New York Bible Institute campus. I also became a conversation partner! I went on to serve three summers on The Ranch as a camp counselor, unit leader, and camp coordinator. It was a wonderful season of spiritual growth, deep friendships, and adventures – memories I'll cherish for the rest of my life."
After her time at Word of Life, Olivia pursued a career in healthcare. She shares that she loves being a nurse, "because it combines my love for science and medicine with my love for people and serving." She also has a deep love for the ministry of Word of Life. So, when the opportunity came to combine her passion for medicine with her love for ministry, she was more than ready to go. Olivia graciously shared her experience with us in hopes that others would be encouraged by what God is doing globally through volunteers and local missionaries.
On the Mission Field
"This past February, our medical team returned to the Word of Life Guatemala campus to set up mobile clinics in the surrounding rural towns. Each year, our team is created from a hybrid of Guatemalan missionaries, medical staff, and volunteers. More and more volunteers join every year from all over the United States. This team consisted of about 120 people."
"We follow this model [for our healthcare clinics]: we bring in our own medical supplies, equipment, and medications. We set up at a location (like a school) in partnership with the local mayor, and we have different rooms for counseling, triage, adult and pediatric clinics, physical therapy, dental work, and pharmacy. Home visits are scheduled as the need arises."
"The day begins with unloading the caravan of vehicles and each team setting up their station in anticipation of a long day of serving. There is an air of excitement in the mornings because we can see the long lines of people waiting to receive care. A salvation message is given followed by one-on-one spiritual counseling. People then begin to trickle through triage, and suddenly, the clinic is in full swing as hundreds of people move through the services."
"The days were long and hot, but when I paused and looked around, I saw my team sweating and serving alongside me. It was encouraging to work together, and it filled my heart with joy!"
Looking to the Great Healer
"Each day, we had staff devotions, shared testimonies, and prayed. We knew we could not effectively serve without asking God to first fill us with His Spirit and empower us to walk in step with His mission for the clinic."
"Medicine brings such a unique opportunity to speak hope directly into the painful situation an individual is experiencing. I often find that when a person seeks medical help, they are more willing to open up, share private concerns, and ask for advice about their situation. With this trust comes a heavy responsibility to treat these individuals with care and dignity, but there also comes a chance to offer tangible solutions and spiritual encouragement. [We offer] solutions like antibiotics, ultrasounds, and wound care, but also a listening ear and a readiness to pray with them and share how we see God at work."
"When a trusting relationship is established between a healthcare worker and a patient, the door is opened to ask God to meet our need not only for medical healing, but also our desperate need for spiritual healing – that is powerful! Through this open door, God can continue working in hearts long after the medical team has packed up and left. We cannot heal people, but we serve the great Surgeon who is able to do far more abundantly than we can ask or think for His glory!"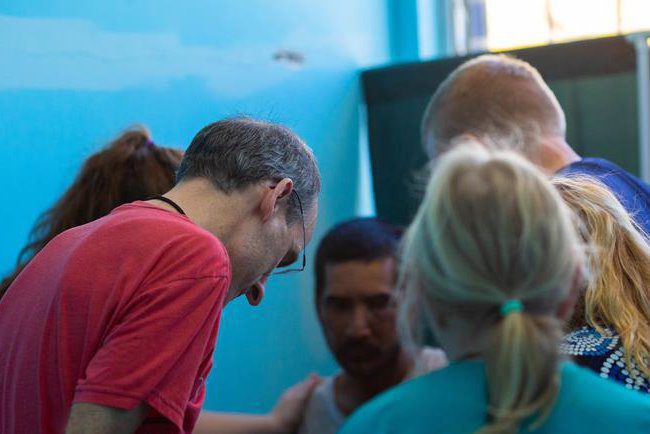 Serving in Community
This was Olivia's second time serving on the medical trip to Guatemala. As incredible as a trip like this can be, it wasn't the sightseeing or excitement of being in a foreign country that meant the most to Olivia, but rather who she served alongside. Olivia was accompanied on this trip by a very special companion: her mom.
"My mother, Leslie Jones, has been on three trips and is now serving as a Spanish interpreter. She has loved the people of Guatemala ever since her time as a missionary to Guatemala after she graduated from the Bible Institute."
"One of my favorite memories is sitting across from three ladies who were sent my way to receive diabetic education. My mom was between counseling meetings and was available to be my medical interpreter for this session. When I was not doing diabetic education, I was in the pharmacy, a very busy place where I could easily spend all my time just filling medication orders and educating patients on the correct doses (shout out to Bonnie, Olga, Karin, and Bob, the pharmacy "dream team"). I knew I had to be creative if I wanted a chance to share a testimony or encourage someone in the Lord, and I was looking for an opportunity."
"We wrapped up our education session, and the ladies were in no hurry to leave. Then, they found out my interpreter was also my mom. They were so delighted by this revelation that they started patting my hand and asking us questions about why we came to Guatemala. Finally, a chance to talk about something besides medicine!"
"It was the highlight of my day to share with them how the love of God compels us to serve and that we came in Jesus's name to meet and care for them. I shared a short testimony, and my mom translated it. This was an unexpected but sweet moment to serve alongside my mama in medical missions. In so many ways, I owe my love for God and medical missions to my mom."
Crossing Cultural Borders
There is something unique about taking your gifts and passions across borders to serve God's people. Long days, hard work, and language barriers can be frustrating, or they can be an opportunity to see the world through the lens of a whole new culture or people group. Choosing the latter approach typically lends itself to good stories, like this one:
"The clinic days are always the highlight of the trip; however, I do have a favorite experience that just makes me laugh when I think of it. We took a day off and spent it at one of the black sand beaches that touches the East Pacific Rise. It was a beautiful, warm day and a chance to explore a different part of the country. I learned that the sands are black due to the past volcanic activity in that area."
"On our way there, our bus pulled up to a river. After unloading passengers to the curb, one of the missionaries drove the huge bus onto a flat, narrow barge. I thought for sure it was going to sink. My mom, very comfortable with the inner workings of Guatemala, was unmoved by the spectacle and quickly found herself a coconut to sip on from a nearby stand. I, on the other hand, was mesmerized by this water taxi system and couldn't stop watching in trepidation as they loaded the bus over wimpy planks of wood. Then, they asked us all to get back on the bus!"
"We rode that bus down the river. I looked out the bus window at the water rushing by; it was so close I could reach out and touch it. Such an odd feeling, but we didn't sink, and the memory still makes me laugh. Talk about an adventure – that was a really fun day."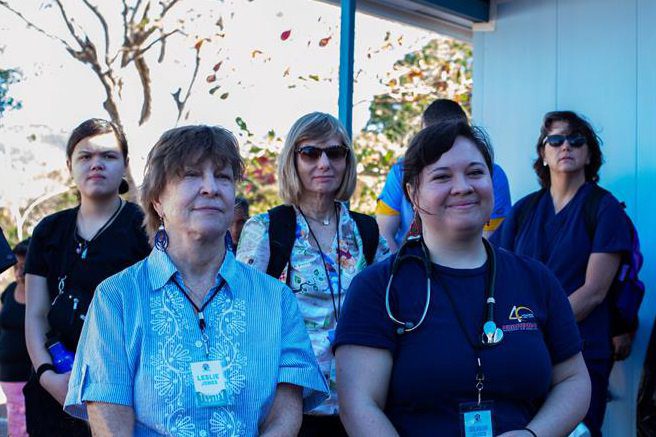 Carrying on the Mission
Olivia flew home with a renewed appreciation and increased desire to be a part of what God is doing in Guatemala. She hopes to return for another medical trip in 2024.
"It blows my mind that we serve a God who knows all cultures and all languages. He sees every corner of this world, and it all belongs to Him."
Ministries like this one exist to serve and partner with those who call Guatemala home. Many believers are faithfully serving their local churches and communities all around the world, just like the team in Word of Life Guatemala. Olivia shared a few ways we can pray for these brothers and sisters in the days to come:
"The missionaries in Guatemala are amazing people. I have so much respect for their faith and their heart to serve the Lord, day in and day out. The week we were there, I watched them work so hard – making meals, setting up equipment, transporting staff, constantly being pulled left and right to translate at a moment's notice, and problem-solving from sunup to sundown as they worked out the logistics of setting up a clinic of that scale. We can pray for their stamina as they serve alongside different medical teams throughout the year, and we can pray for a fruitful ministry. Many of the full-time missionaries are only partially funded in their support, so we can pray God brings believers to support our brothers and sisters in Christ serving in Guatemala. We can also pray for strong families, as many of them have children growing up on the mission field."
---
Please Pray
Praise God for the lives eternally changed through the healthcare trip to Guatemala! Ask that God would continue to work in the heart of each person who was impacted through this ministry.
Pray for the full-time missionaries serving in Guatemala. Pray for provision and strength as they continue to share the hope of Jesus with their local communities.
Pray that God would provide the much-needed medical professionals and other team members for upcoming healthcare trips.
Get Involved Today!
Check out Word of Life's missions page to explore short-term and long-term opportunities.
Support the ongoing ministry of Word of Life Guatemala.